Today is a winner announcement day for Starbuck coffee e-gift cards! There are 3 people to get them. To select winners randomly, I used a ladder game program (사다리게임). Please check the results here. :D
3 winners will get the e-gift by text message or email this week.
Again, thank you so much for all your comment and encouragement! Your ideas and experience will definitely be the basement that hep Korea Medical Hub build better medical service for expat and visiters in Korea. We are always open to your advice after this event. :D
Between 25 and 29 June, I've got 14 comments but 3 of them didn't joint this ladder game becuase I didn't get their contact info. So, it was 11 people joing this competition.
Participants (from Left to Right)
1. Daniel- Pink
2. Jayleen Y- Red
3. Maria- Yellow
4. Neha Jangam- Brown
5. Abbi Sauro- Purple
6. Michael Walker- White
7. Jennifer Chough- Bright Green
8. Amber Buysman- Blue
9. Josh Damon-Sky blue
10. Kalama Kaholo- Dark Green
11. Carmen Chow- Blue-Green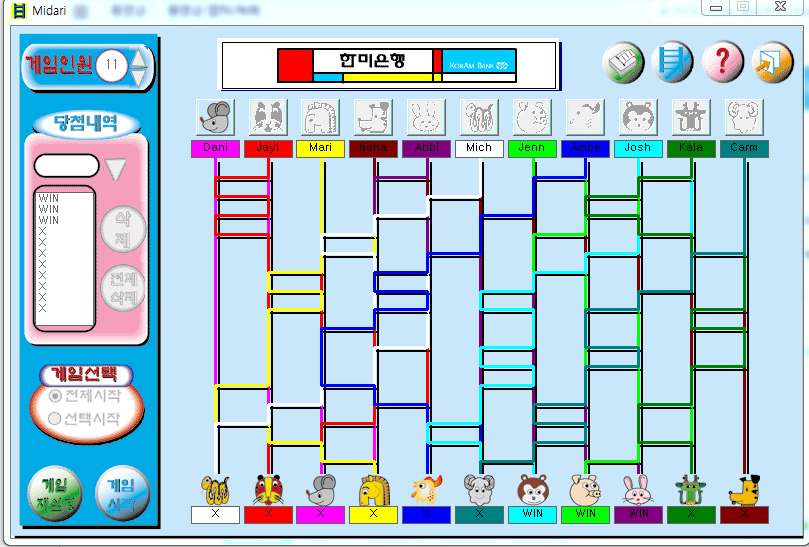 Click to watch the full video
Congratulations!
Winners are;
"Josh Damon"
"Jennifer Chough"
"Abbi Sauro"