Wonkwang University Hospital
Wonkwang University Hospital was established in accordance with the philosophy of Won-Buddhism which means "Save lives & Cure the world" and to realize a true worth of respect humans; cultivated an excellent medical personnel to contribute human's health improvement. The hospital has been expanded its medical care centers, adding Neuropsychiatry Hospital, Dental Hospital, three Oriental Medical Hospitals under its umbrella. And it has built its firm stand as the top quality medical institution throughout Korea practicing co-care services with both of western and oriental medicines.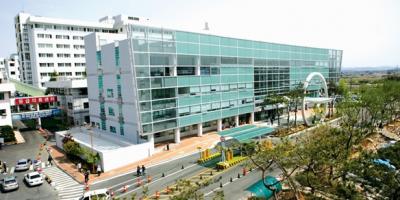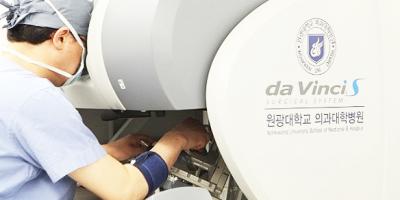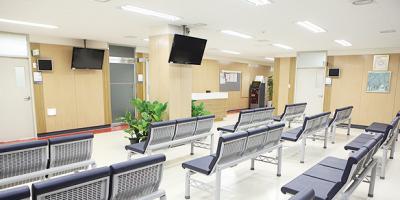 Office
Hour
| MON | TUE | WED | THU | FRI | SAT | SUN |
| --- | --- | --- | --- | --- | --- | --- |
| 09:00 ~ 17:00 | 09:00 ~ 17:00 | 09:00 ~ 17:00 | 09:00 ~ 17:00 | 09:00 ~ 17:00 | 09:00 ~ 12:00 | |
Robotic Surgical Center & Cancer Center

Robotic Surgical Center
The hospital commenced the Da Vinci Robotic Surgery as the first on in Honam and Chungcheong regions, and is implementing the robot assisted surgeries in diverse areas such as prostate cancer, renal cancer, thyroid carcinoma, colon carcinoma and rectal cancer, gynecological cancers, and heart disease. Robotic surgery is a minimal invasive cutting edge surgery with a precise maneuver going beyond the human limits, which can make precise excisions of various cancers. It has aesthetic merits with minimal incision smaller than existing surgeries as well as faster recovery with less post-operative complications.
Cancer Center
The center has established a close interdisciplinary medical care system of the medical staff for diagnosis and treatment of cancer. According to the decision made from the interdisciplinary consultation, the optimal treatment is being provided to the patient with the methods such as surgery, anti-cancer chemotherapy and radiation therapy in addition to the post-treatment management of cancer patients and the educational activities for the guardians.
Digestive Disease Center & Orthopedic Arthroscopy Center

Digestive Disease Center 
The center has specialized endoscopy facilities, playing a leading role in researches on various therapeutic endoscopy and digestive function examination, and digestive diseases. The hospital's Submucosal Resection technology for the patients with early stage gastric cancer and Therapeutic Endoscopy Surgery of Hepatobiliary Calculus were selected as the excellent medical technology by the Ministry of Health and Welfare.
Orthopedic Arthroscopy Center
The center performs the artificial articulation surgery by the arthroscopy using special bio-materials. It was selected as the excellent medical technology by the Ministry of Health and Welfare as the minimal incisive minimal pain surgery.
Cardiac and Vascular Center & Cancer Center

Cardiac and Vascular Center
Cardiac and Vascular Center operates special facilities for cardiac catheterization and angiocardiography as well as cardiography, withpride for 99% of success rate in coronary angiography and interventional procedures being performed over 1,000 cases annually. It also operates a Cardiovascular Core Treatment Facility where the specialized intensive care is being provided for patients with myocardial infarction or patients who are going through the cardiac surgery.
Cerebrovascular Disease Center
This center provides emergency treatment service for the patients with stroke and their rehabilitation treatment. It provides the international class treatments including brain surgeries in use of the latest cutting edge microscope, navigation and stereotactic surgical devices. Furthermore, the center treats aneurysm or angiostenosis through the intravascular intervention procedure without opening the skull.