Kangbuk Samsung Hospital (KBSMC)
Kangbuk Samsung Hospital opened on November 2, 1968 with anticipation to become the high quality medical institution to contribute towards betterment of Korean public health. Currently, there are 700 patient beds, 32 departments, 5 Specialized Care Units, and 144 clinics. KBSMC has about 2,000 employees, including 433 doctors and 648 nurses. List of advanced medical equipment includes; RapidArc, the latest high-tech cancer 4D radiation therapy; PET-CT (Positron Emission Tomography-Computed Tomography), the most advanced cancer detecting equipment; MRI/MRA that can detect any tumor, infarction, and aneurysm including brain; MD-CT that can accurately detect tumors that are less than 1cm in the lungs, pancreas, liver, kidny and gall bladder. KBSMC utilizes digital medical record system such as OPS, PACS, EMR for faster delivery of patient information to and from hospital staffs. KBSMC has Korea's most advanced health screening center, the largest diabetes center, breast cancer & thyroid cancer center, providing futuristic medical services. The medical research partnership between KBSMC and John Hopkins Hospital of Baltimore, MA in USA represents a new global medical research model. In 2012, the Ministry of Health and Welfare affiliated institutions chose Kangbuk Samsung Medical Center as the best hospital for cancer-related operations with the lowest mortality rate.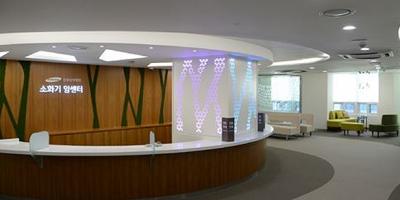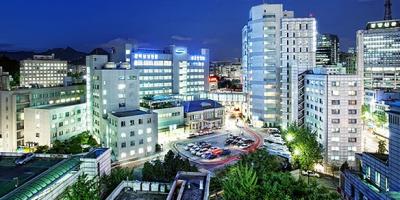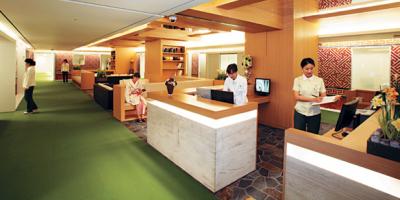 Office
Hour
MON
TUE
WED
THU
FRI
SAT
SUN
08:00 ~ 17:00

08:00 ~ 17:0

0

08:00 ~ 17:0

0

08:00 ~ 17:0

0

08:00 ~ 17:0

0
Health Screening

KBSMC was the first hospital to apply health screening, general health management concept in 1981. Since its opening, KBSMC has examined over 1,000,000 health screening, becoming the most prominent health institution to have serviced the largest number of people for health screening in Korea. Recently, KBSMC has been regarded as the most trusted health screening service provider by over 70,000 people who receive health screening at the center annually. The facility includes area of 10,000 m2, and over 200 medical staffs ncluding 40 physicians to provide the best medical service. The center solely owns highly specialized MRI, MDCT and PET-CT and other medical equipment. Professor-level physicians and specialists including cardiologists are available for medical consultation and treatment in the health screening center. Patients can comfortably wait in the waiting room area to be screened for the desired service. The center has separate male and female zones to offer more comfortable environment. During the screening, the patients are offered testing clothes and gowns made with organic cotton. The facility is themed with natural elements like trails, rock, wood, water, air, and sky offering patients experience like of being in the forest. On 2009 December 15th, KBSMC signed a memorandum of understanding with Johns Hopkins University Hospital to conduct joint cohort studies. Through this partnership with Johns Hopkins, KBSMC hopes to find new treatment and prevention methods by studying the causes of various disease including cardiovascular diseases, gastric cancer and colon cancers, diabetes, and other related diseases through cohort studies.
 
Diabetes Center

Diabetes Center was opened in 2007 with the motto to be Korea's first dedicated center for diabetes; it benchmarked the best practices from Joslin Diabetes Center in the USA and Tokyo Diabetes Center in Japan, the largest diabetes center in Asia. At the Diabetes Center, a team of physicians, dietitians, and exercise physiologists work together to provide preventive care to the potential diabetic patients and teach prevention methods and education in order to prevent and cure the disease. Blood test and other complication tests are done at the central area within the center. At KBSMC Diabetes Center, other specialists are brought onto the team: an ophthalmologist, nephrologist, cardiologist, podiatrist, to manage diabetes more effectively. The center operates one-stop system for consultation-diagnosis-treatment, and detailed consultation plans for prevention and cure of the diabetes. After the consultation, patients receive various educational programs and classes regarding managing the disease. The center also offers U-Health service to treat patients anytime, anywhere. 
Breast and thyroid cancer

Center for breast and thyroid cancer, led by Chan-Heun Park MD, chairman of the board of Korean break cancer research association, has successfully operated Korea's first endoscopyassisted breast cancer and thyroid cancer surgery and won an award for the best thesis from the International Society for Gynecologic Endoscopy. Endoscopy-assisted breast cancer surgery is done by an axillary and a periareolar 3~5cm incision to create working space for endoscopy to remove the tumor. With the endoscopy-assisted breast surgery, mastectomy and breast reconstruction surgery can be performed during one operation. The endoscopy-assisted surgery (EBS) achieves same result as the traditional mastectomy surgery, with minimal scar and maximum breast conservation for a positive cosmetic outcome. The EBS shortens the hospital stay down to 1 week. In recent advancement of the surgery, EBS can monitor spread of the cancer during the surgery, and can remove the tumor completely, reducing the chance of relapse. The advantage of KBSCM cancer center is the system that allows the surgery to be performed within the 2 weeks of the initial diagnosis, and "One-stop diagnostic system" that allows the patient to get all the necessary diagnostic tests on same day with minimum waiting time. The hospital offers ultrasound test, biopsy, X-ray, PET-CT, MRI, and other advanced tests in the central area in order to provide comfortable experience to the patients and family.