Inha University Hospital
As one of leading hospitals in Asia, Inha university Hospital is committed to provide customers with high quality medical services using the latest state-of-the-art medical equipments. The Inha University Hospital was accredited for all fields of the hospital by JCI on July 21,2010. Noticeably, the medical center at the Incheon International Airport was the first one in the world to be accredited by JCI. As a result, the medical center at the Airport was found to meet the international health care quality standards including safety for patient care and organization management. As the nearest tertiary hospital from the Airport, it is conveniently located and easily accessible for international patients. The hospital continues to improve its quality of medical care by utilizing the most advanced medical equipments such as RapidArc, Robotic Cyber Knife, Spec-CT, PET-CT, MD-CT and Magnetic Resonance Imager, etc.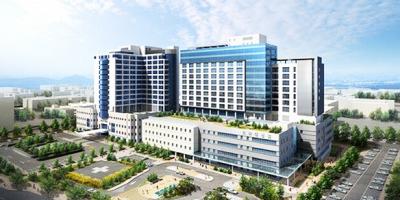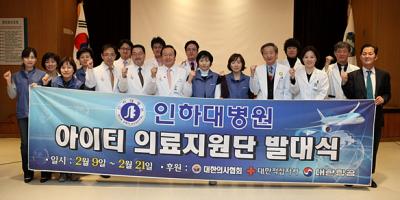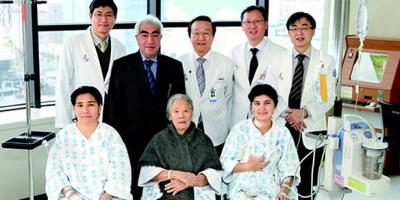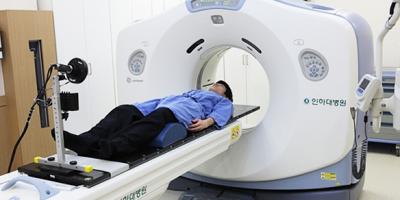 Office
Hour
| MON | TUE | WED | THU | FRI | SAT | SUN |
| --- | --- | --- | --- | --- | --- | --- |
| 08:00 ~ 16:00 | 08:00 ~ 16:00 | 08:00 ~ 16:00 | 08:00 ~ 16:00 | 08:00 ~ 16:00 | | |
Health promotion center

Health Check-up
The Health Promotion Center is not only recognized as one of the best health screening centers by Korea Association of Health Promotion but also accredited by America ISO 9001. As of today, 1.500 patients from abroad have used the center. A separated section of the center with private room and personal staff is provided for international patients for their privacy, comfort and special needs. The health screening program for international patients was introduced first by Inha University Hospital. The program has over 100 tests including PET-CT and comprehensive tests are offered based on individual needs. The results are ready two to three days after the checkup.
Cardiovascular Center & Cancer Center

Cardiovascular Center
The center at Inha University Hospital is for the diagnosis and treatment of patients suffering from cardiovascular diseases. The center has a nonvascular examination unit including electrocardiogram (EKG) room, 24-hour ambulatory blood pressure and exercise tolerance test room, and head up tilt test room and angio - cardiography unit for vascular examination and treatment. The center guarantees patient accurate results by adopting and operating the most advanced angio-equipments.
Cancer center
There are four specialized cancer center treatment centers at the Inha University Hospital, namely Cyberknife center, Woman's cancer center, cancer&BMT, and Lung cancer center. The center has the most advanced medical equipments for cancer treatment, such as Cyberknife and RapidArc. For patients' convenience and comfort, each specialized cancer center provides simplified one-stop service for comprehensive examination and treatment. The specialized centers have successfully treated over 2,500 cases of various cancers such as, just to name of few, lymphoma, leukemia, and breast cancer. 
Endoscopic Major Sinus Procedures, Both Side & Sialendoscopy

Endoscopic Major Sinus Procedures, Both Side
The invasive procedures such as Caldwell-Luc operation had been used for the treatment of chronic pansinusitis in the past. However, with the development of nasal endoscopy, the endoscopic sinus surgery is now possible that removes any nasal polypor pathologic nasal mucosa and improves ventilation of paranasal sinus by opening their natural ostium wide. Especially in our hospital, the expert of endoscopic sinus surgery, Dr. Tae Young Jang, reports excellent treatment outcomes. 2 days after the surgery, the nasal packing for hemostasis is removed. And the patient could get out the hospital on the 3rd postoperative day.
Sialendoscopy
Non-neoplastic disorders of the major salivary glands (submandibular and parotid) include idiopathic or recurrent sialadenitis subsequent to salivary stones, stenosis, infective, inflammatory, or autoimmune etiology. Traditionally, failed conservative therapy has necessitated surgical excision of the gland(s). Sialendoscopy is a minimally invasive procedure that allows endoscopic visualization of the salivary ductal system and permits diagnosis and treatment of inflammatory and obstructive pathology of the ductal system, thus providing an alternative to open surgery. 
Total Hip Replacement Arthroplasty Percutaneous Coronary & Procedures W/O Ami W Stent Implantation

Total Hip Replacement Arthroplasty
Total hip replacement (or hip arthroplasty)is a technique that has become widespread in recent years in response to the need for improving hip joints that have been damaged by injury, osteonecrosis orarthritis. Joint replacement surgery may offer the best treatment option for long-term improvement for the hip joint when other treatments have proven inadequate. In most cases, having a total hip replacement reduces joint pain and means a return to pain-free movement.
Percutaneous Coronary Procedures W/O Ami W Stent Implantation
Coronary arteries are the vessels that supply the heart with blood so when the coronary artery is narrowed due to atherosclerosis which cannot supply enough blood to the heart. Percutaneous coronary intervention is a procedure to extend coronary artery which already narrowed or occluded by balloon or stents, and other techniques. In general, patients should be in hospitalized for 1-2 days but it could be longer in case of severe coronary disease or acute myocardial infarction. The procedure only requires local anesthesia so the patients recover in a short time. The procedures preserve myocardial function to help flow sufficiently in coronary arteries.